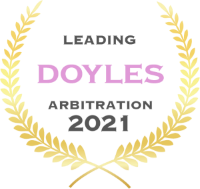 Doyles Guide to Leading Australian Arbitration Silks – 2021
Anthony Lo Surdo SC has once again been recognised as a leading Australian Senior Counsel with particular expertise in Arbitration. He was first recognised in 2019 and again in 2020.
The 2021 listing of leading Australian Arbitration Barristers details Senior Counsel and Junior Counsel identified by clients and peers as having particular expertise in arbitration and alternative dispute resolution matters across all Australian legal markets.